Mixing Light and Dark: A Guide to Developing Your Personal Style
This post may contain affiliate links, please read my disclosure policy.
Mixing dark and light elements in your home can be challenging! As my personal style has evolved I have found that mixing two different styles is just plain difficult. The other day on my Instagram stories I polled you guys asking which decor style/mood do you lean towards the most.
80% of you leaned toward light and bright rooms, while the other 20% gravitated towards a moody and dark room.
BUT like me, I bet you like elements of both but just don't know how to mix them together. On this blog post I'm going to give you a few tips that helped me incorporated some dark and moody tones within a light and bright style. It doesn't need to be one of the other! It can actually work together as you create your own personal style.
How to Mix Light and Dark tones in a Room
Use the 80/20 rule. YEP. Just like that poll I took. Leave 80% of your room light and bright and incorporate dark tones in the 20% range.
"The 80-20 rule in interior design is a very good guideline to help you out of this confused state: "As long as 80% of your interior is unified by the same style, period, or philosophy, you can deviate with the other 20%" –MyBoysen
So what does that look like in real life? Well let's take a look!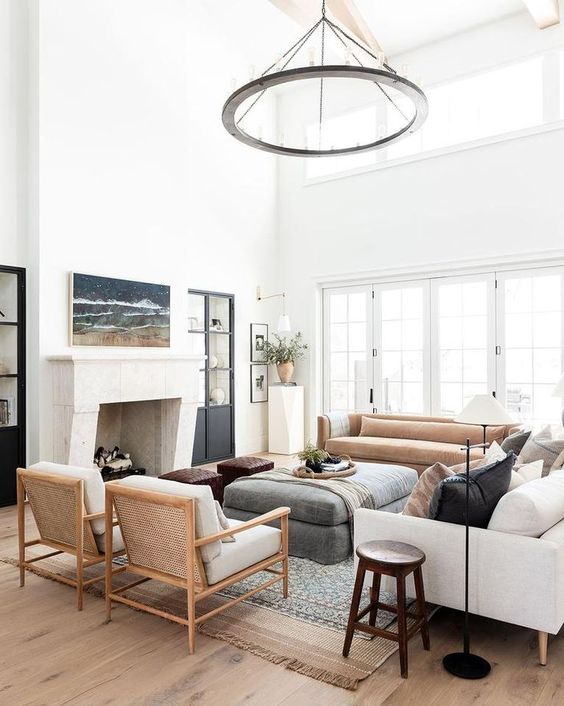 I think Shea and the team at Studio Mcgee uses this philosophy beautifully here. Most of this room reads light and bright. Thanks to the white walls, window trims and even the flooring choices, this room feels like a sunny day. But by adding dark tones in the furniture, the small stool next to the sofa, the pillows and ottomans and also the black built ins, you find that the darker tones really ground the room and make it feel warmer. The 80% of light and bright is found in all the surrounding finishes. Paint, flooring, window trim. While 20% of this room is styled with darker tones. It's a perfect match!
How can I recreate this look?
Start by choosing a lighter paint color. Something in the white or off white family for the entire room.
If you're able to choose flooring choose something with a lighter tone. White oaks are perfect for this look.
Leave your trim white as well or something that coordinates with the paint.
When choosing your furniture, choose a lighter color sofa ( white, cream or beige) and choose darker ( but still muted) coordinating upholstery in grays or browns.
I also love how they used the same color on both ends of the room. For example. The stool next to the sofa matches the tone of the leather ottomans in front. The two chairs have the same tone as the sofa on the opposite side! So you can use the same idea when you create your room. Use the same tone on the opposite side so it all ties in.
Let's take a look at another room.
I also think Marie Flanigan Interiors does this so well too! She adds both light and dark elements to her rooms but also has a way with making it feel elegant at the same time. This is something I also love! It might be with a brass finish or a glossy vase but adding elegance through texture is such an excellent way to make a room feel more put together. But we will talk about that another day!
This little vignette is so stylish in every way. I didn't go to design school but I know this looks like a professional but this look together. Just like I talked about before she bases the room in white paint and white cabinetry. If we take away all the decor we are left with a pretty white room. So that is something we can all do. Start with a white or off white base! Just like I said in the other example.
But again it's the added darker tones that really makes this room come together. The lux pillows in velvet in that gorgeous dark grey color and the pop of terracotta keeps thing interesting. While the base of the table is slim and draws you eyes up towards a beautiful arrangement of purple flowers sitting on a white marble base.
I just love it!
Just imagine for a moment if all the pillows were some tone of white. I think it would still be GORGEOUS actually. But not the style I would want.
The moody tones at 20% really give this spot that darker personality!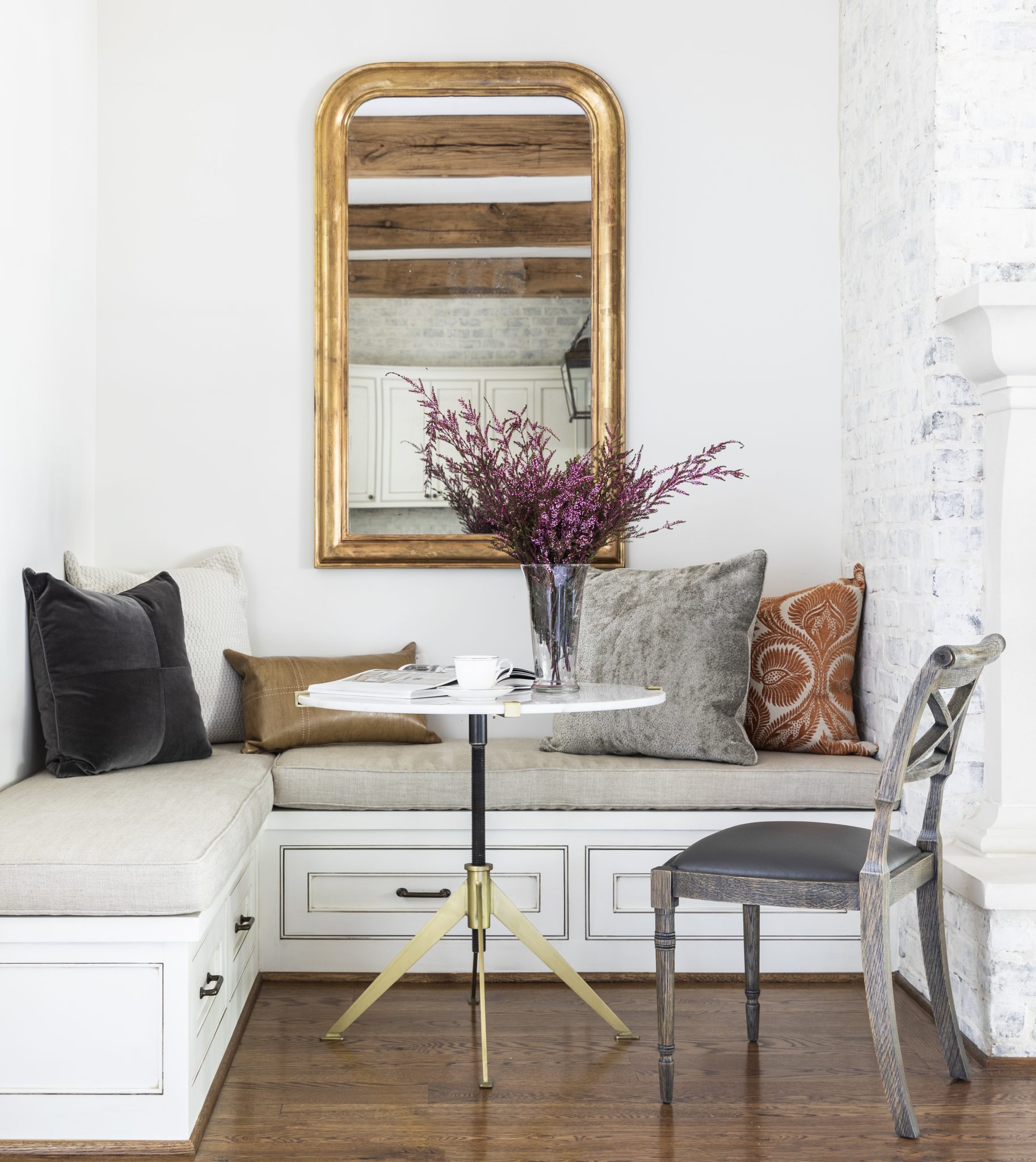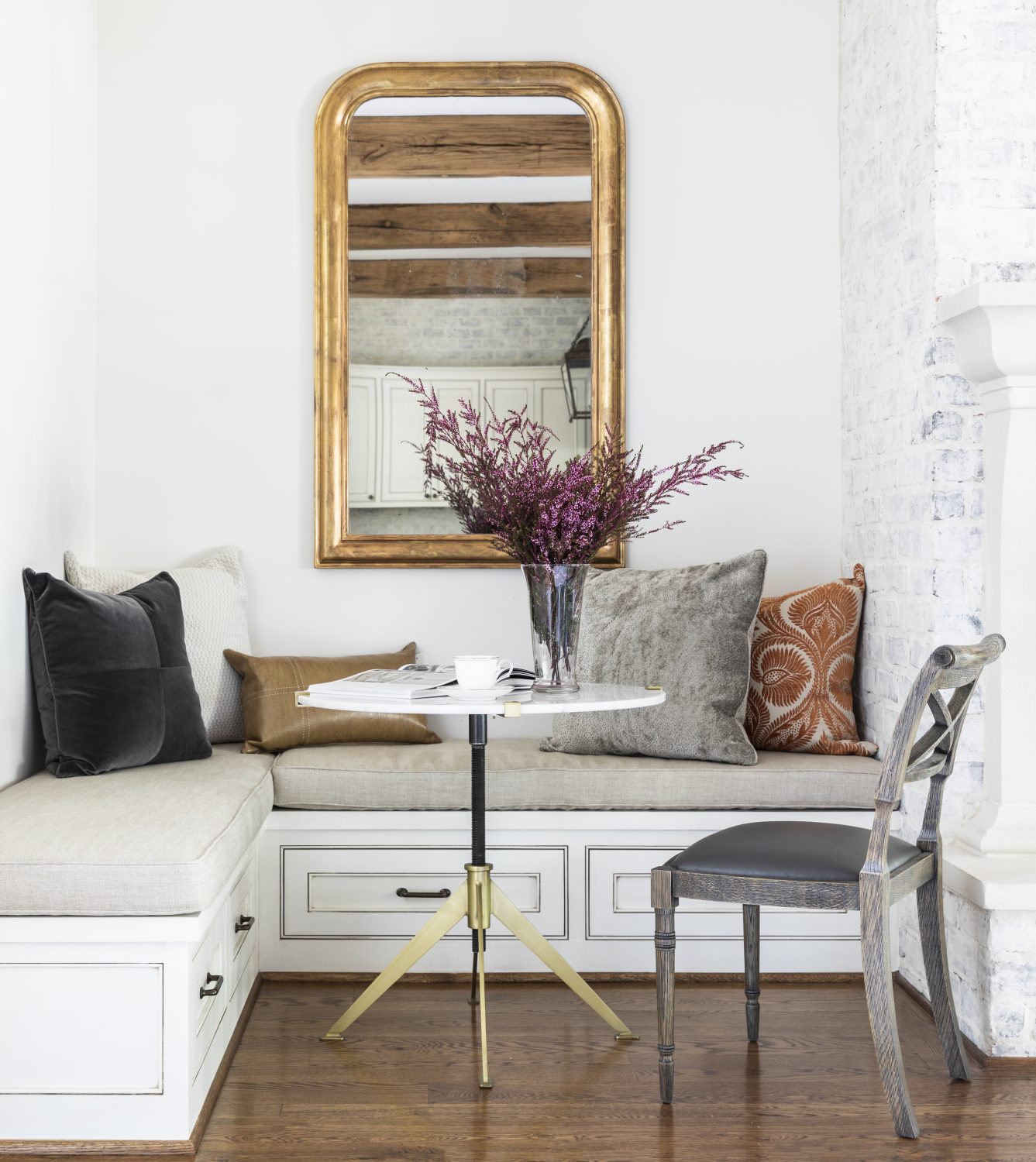 So How did I use this 80/20 Decor Philosophy in My Own Home?
Well let's take a look at our family room. Here we have a large green built in. You can't miss it. That bad boy in the context of this picture looks like more than 20% haha! But if you take a step back into the entire open space it's actually pretty spot on.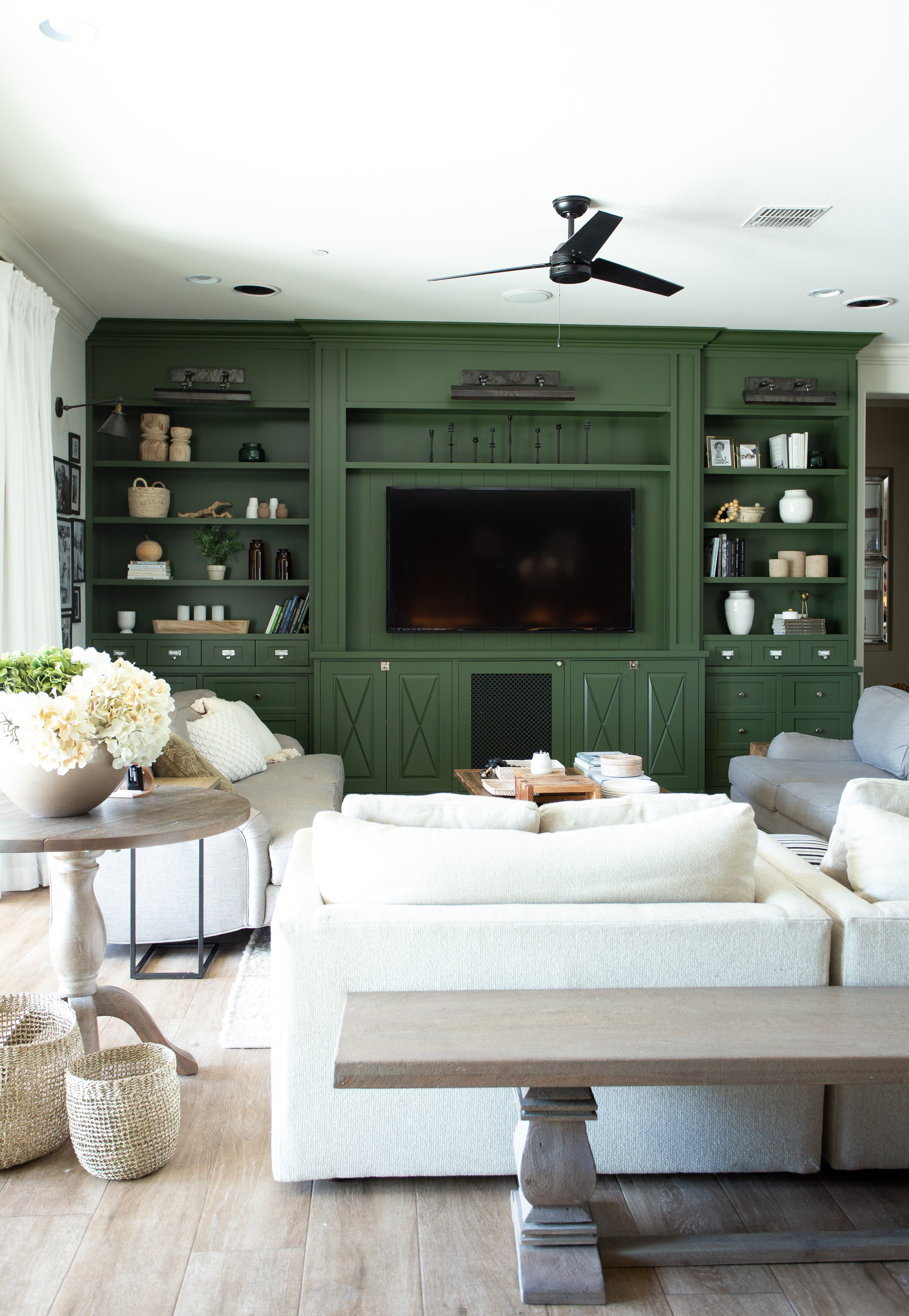 My kitchen that is open to this area is mostly white. Our furniture is mostly on the lighter side and even our surrounding walls are white or off white.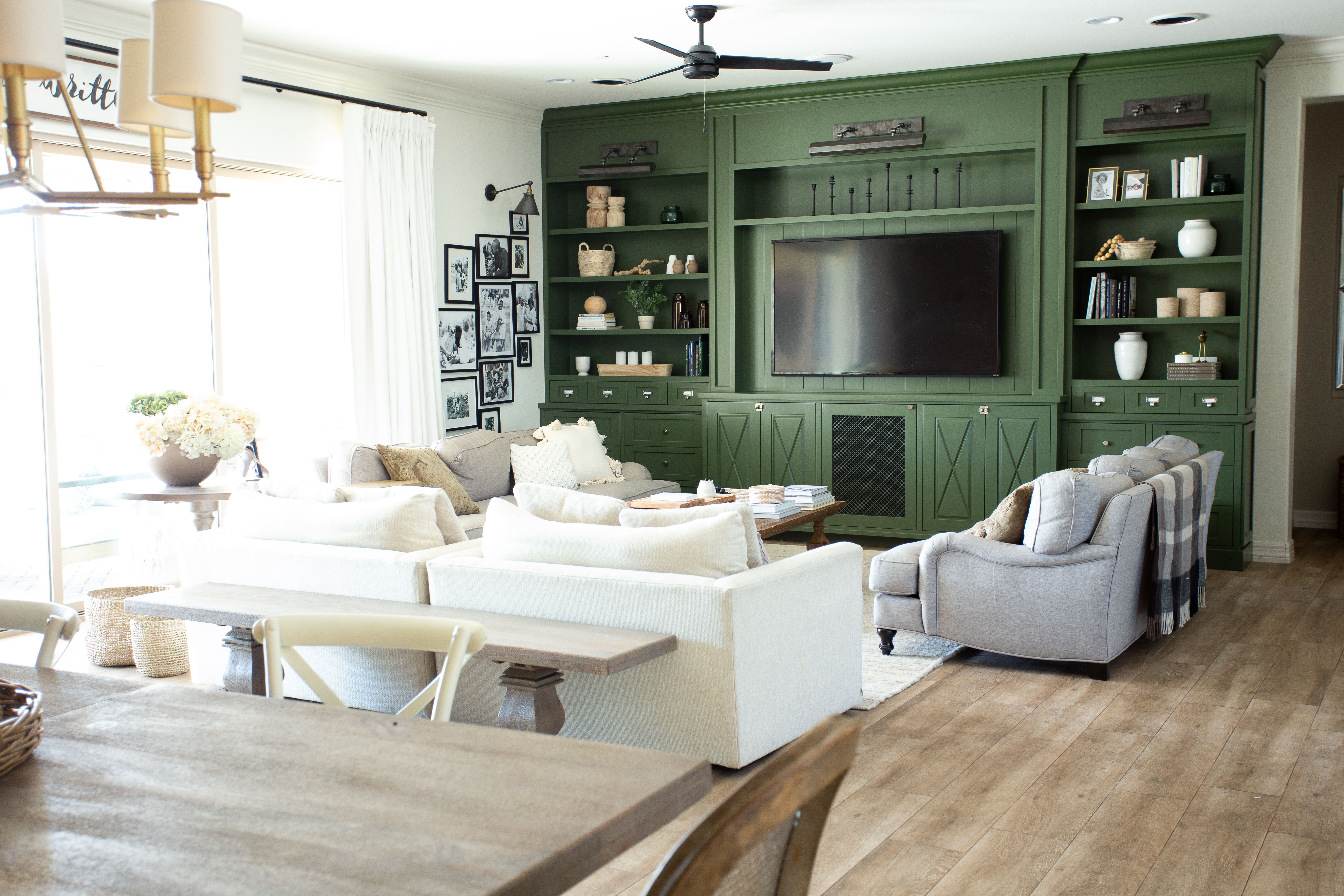 When I decided to paint the built in green I got some push back from people who know me and think LIGHT AND BRIGHT when it comes to my style. But I really craved something darker. I knew that if I left that built in white it would feel like a piece of my decor style was missing from the room. So I decided go dark and my goodness I love it!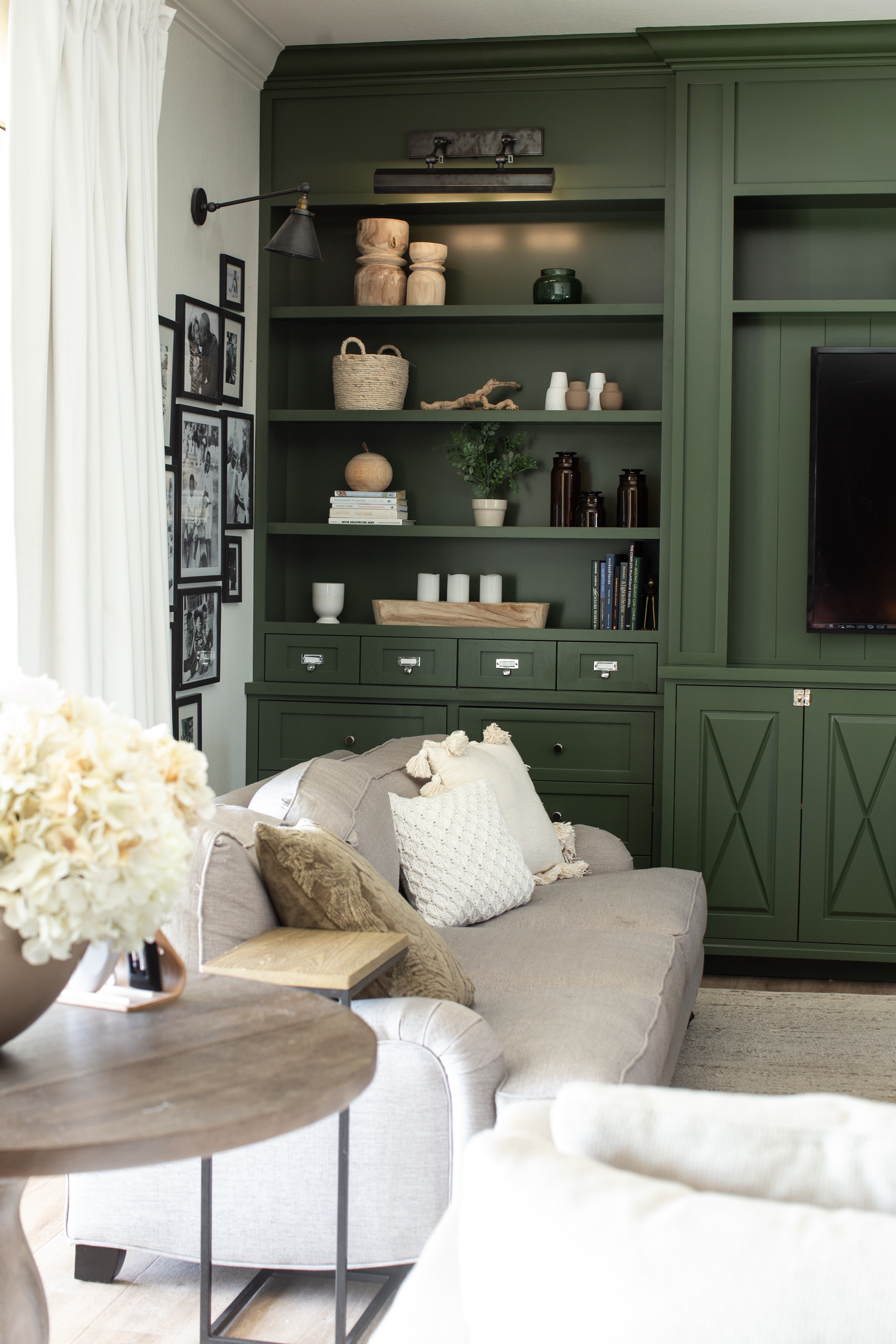 The only thing left to do is add that darker tone to the kitchen somehow and that is what I'm trying to figure out! I actually love adding the color through dark greenery. It's the easiest way to tie in the color from that side of the room without painting something! I also have dark barstools in a black velvet that keeps the kitchen pretty grounded as far as color goes.
But I think a darker kitchen island would be the perfect 20%. If I go that direction I think the barstools might be too dark so I would need to switch those out with something a bit more light! Either in a wood tone or a painted finish. ( Don't you just love how I walked you through that?)
So there you have it friends. A little guidance on how to make this work in your own home. Remember it's not going to be perfect and at the end it's not going to be exactly my style or even the beautiful style of these women above, but your own style! Which is beautiful.
Also if you feel like you want to paint an entire room dark and moody I say go for it! Remember if we are looking at your home as a whole, I bet that one room would fall under the 20% so go for it. Plus rules are made to be broken!
Follow me on Pinterest to check out some more of my favorite Light and Dark Interiors.
If you are following me on the LikeToKnowIt app you can shop some of my favorite home decor accessories to go with a light and dark style!
As always I'm on Instagram and you can always join the conversation there or here in the comments !